Page last updated 17th May
link to dates and details for The big Coiners Carry in May    (All completed)
Link to information about the official opening
Link to work done so far
The project
Several of the paths across Bell House and Erringden Moors above Cragg Vale have been pretty impassable for many years, with many the unwary walker ending up to their knees in the mire.
Thanks to a very generous local benefactor, CROWS now has a plan to deal with the impassable paths. Great thanks to the advice and support of Calderdale Highways, we now have all the permissions in place to do the work.
There are three main jobs:
1. Hebden Royd path 072 runs from Bell House towards the edge of Broadhead Clough. Part of the current route is irredeemable (ie the causey stones well buried under a bog) so the Council has agreed to divert the path along a relatively drier line above. CROWS will improve and waymark the new route.
2. At the end of the desire line, there are several really boggy crossings so six 10ft boardwalks will be put in.
3. Hebden Royd path 045 runs off from Hebden Royd 072 around the edge of Broadhead Clough towards Old Harry Lane and Snail Lane. This is currently crossed by several deep water channels, so walkers have had to try and find a dry line (difficult, and in doing so they have caused damage to this SSSI area). To solve the problem, CROWS will put in two 18ft and five 10ft boardwalks, together with some visible waymarking.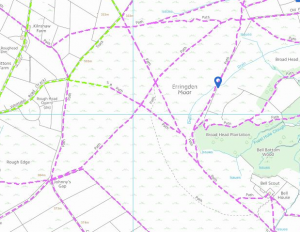 1. The desire line which will become the diverted path runs North West  from Bell House between the existing route of Right of Way Hebden Royd 072 (purple) and the black and white dotted line.
2. The first run of boardwalks further on Hebden Royd 072 is at the junction of paths  Hebden Royd 045 .
3. The blue marker indicates the location of the boardwalks on Hebden Royd 045.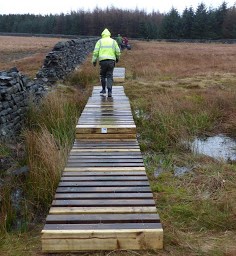 This is an example of one of the boardwalks CROWS put in at Dicks Lane, below Stoodley Pike in 2016. The path here had also become impassable, so the boardwalks opened up an important route.
The timber surface can be slippery so staples were hammered in to provide a grip.
The boardwalks on Erringden Moor will be of a similar design, but the  project is far bigger that Dicks Lane. We are looking forward to the challenge!
Why boardwalks?
Because the site is a SSSI we want to cause as little damage or change to the ecology. Boardwalks have a very limited footprint, especially compared with other solutions and they can be put in a great speed, so causing minimal disturbance to any bird and wild life.
The boardwalks will initially be somewhat unsightly, but our experience is that as the sedge grass grows it will eventually partly disguise them .
Official opening of the route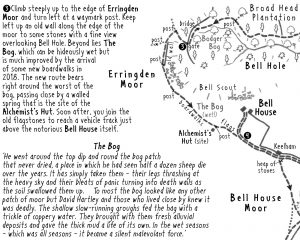 The newly renovated route will be officially opened around 5.30-6.00 pm on Wednesday June 6th. Robin Tuddenham, chief executive of Calderdale (and a fine runner) will do the honours. We hope the donor will be also be able to make it.
Please come and join us for the opening.
There just might be a rendering of 'Over the boardwalk' (based on the Drifters) which would be one of this year's more surreal experiences!
Christopher Goddard will lead a walk from Dauber Bridge up to Bell House for the opening. Meet him at Dauber Bridge at 5pm for a 45 minutes walk up through Broadhead Clough to the opening point.
Christopher will lead a walk back down to the Robin Hood where there will be an informal post-opening celebratory drink – all are welcome.
The big coiners carry
Nearly 400 pieces of timber will be delivered to Bell House and will need carrying to the locations of the boardwalks.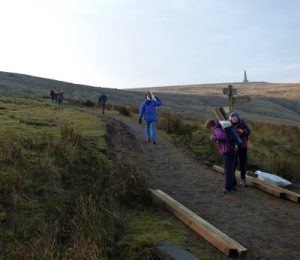 We need to enlist the help of local walkers, runners, mountain bikers and friends (or passers by!) to help us get all the timber and tools to the locations of the boardwalks and marker posts. Just carrying one piece of timber as you pass by would be great – no need to stay for a long time.
We were overwhelmed with the support we got for a similar exercise for Dicks Lane, below Stoodley Pike and we hope people will respond again so that we can finally open these important paths.
The plan
We will update this page as plans become clearer, we will also circulate information through organisations, but if you want to be emailed with details of the two events nearer the time, send us an email to crows-coop@outlook.com. There is also an event on our Facebook page where you can say you are interested.

When the Big Carry will take place
Where to meet and how to get to Bell House
When? – two dates for your diary
We have fixed two dates for the big carry:
Wednesday May 9th

Saturday May 12th
CROWS will be there on the Wednesday  from about 10.30 to about 1.30 and on Saturday from about 10.30 to 1.30
How to get to the timber stack
The timber is being stored at Bell House HX7 5RU; grid reference SD 996 246.
May 9th – Most of the timber has now been carried up to the path from Bell House and is now very close to the top of Broadhead Clough. So, for those arriving to help on Saturday 12th May, it may be easier to meet there – see walking directions from Mytholmroyd below. 
Whatever your satnav says, you cannot drive there, but here are several different ways to get there:
Car and walking (or biking)
From the Cragg Vale Road (B6138), turn off for St James Church and the Hinchliffe Arms. Drive past the Hinchliffe for 1.5 kms on a single track road towards Withens Clough reservoir. There is a small car park at the reservoir if you want to walk the rest of the way (2.5kms – about 40 minutes).
Otherwise, just before the building take a hairpin right hand turn up a narrow tarmac lane until you see signs for a car park on your right. A CROWS volunteer will show you where to park.
DO NOT ATTEMPT TO DRIVE ALL THE WAY TO BELL HOUSE, THE TRACK IS VERY POTHOLED AND THERE IS NO PARKING AT BELL HOUSE
The track from the car park to Bell House is just under 2km, it's pretty flat with some great views – walking it will take you 20-30 mins.
Bus and walking (under 1 hour walk)

Get the 901 bus from the Calder or Ryburn Valleys to the Robin Hood pub.
Go up the road for 100 metres and take a right fork along a narrow tarmac road called Castlegate which goes above Cragg Brook. Cross the bridge, zig-zag up the steep hill, pass Sunny Bank and Lower Lumb farm until Upper Lumb Farm at the top.
Keep ahead and follow the footpath for 250 metres until you come out on a wide track called Hestletine Lane. Turn right and follow the track around a left turn and you will arrive at Bell House in 5 minutes.
Walking from Hebden Bridge (just over an hours walk)

Go out the back of the station (under the railway line) and walk up the concrete track ahead. Go through the hamlet of Wood Top and keep ahead up a setted road. At the top, turn left.
Follow the track through Great Jumps Farm, passing two remote houses. After the second house, turn right up a walled path to a stile.
Go left across the moor on the path which has several very wet sections (where several boardwalks will be going in). You will arrive at a junction of paths where you bear right to stay on the moor. By now you will have seen signs of activity and people will direct you.
Walking from Mytholmroyd (about an hours walk max)

There are several routes but here are two that we can recommend:
1. Daisy Bank – Go up Cragg Road and just before an old fire station, turn right and immediately left along Nest Lane. Take the path bearing off to the left called Daisy Bank. You will go up some steps, past a conifer plantation where you keep ahead to a stile at the very end of the path.
Go left across the moor on the path which has several very wet sections (where several boardwalks will be going in). You will arrive at a junction of paths where you bear right to stay on the moor. By now you will have seen signs of activity and people will direct you.
2. Through Broadhead Clough – Walk up the Cragg Road (or get the bus) to Dauber Bridge (1.5 kms) and turn right on the concrete track for 1km. At a T junction, with a Yorkshire Wildlife board, go straight ahead on a path into the woodland.
The path climbs through and then out of the bowl, up some steps on to the moor. Turn left and you will see signs of activity and people will direct you. This will take you under 1 hour.
Walking from Todmorden (1.5 hours walk)

Take the bus (T6 or T8) or walk up to Harvelin Park where you pick up the Todmorden Centenary Way up to Stoodley Pike. Turn left (East) down to a wall and keep ahead on a series of boardwalks (a previous CROWS project) and some stone flags.
Carry on to the end of the walled lane and shortly after turn right alongside a wall. You will see Bell House across the moor on your left and because it is access land, you can head straight there, but if you want to keep your feet dry, head to the end of the wall and turn left on a track called Hestletine Lane. Follow the track around a left turn and you will arrive at Bell House.
Work so far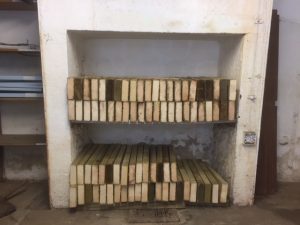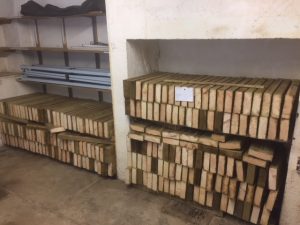 March 23rd – marker posts have been put in and some drainage work completed.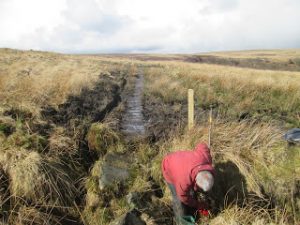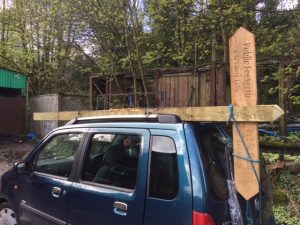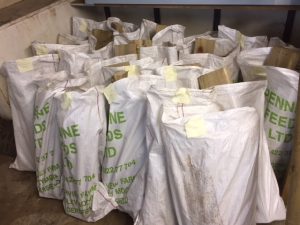 May 2nd – All the timber and tools were transported up to Bell House and the first boardwalk was constructed.
More details of the day's work can be seen on our blog at:
http://communityrightsofwayservice.blogspot.co.uk/2018/05/bell-house-moor.html
May 9th – 8 CROWS and around 12 additional volunteers turned up for the big carry from Bell House up to the moor where the boardwalks will be constructed. All the timber was taken up the hill and deposited at strategic points along the path – but there's still more carrying to do to get everything to the designated positions for construction to begin. A big thank you to everyone that turned up and lent a hand.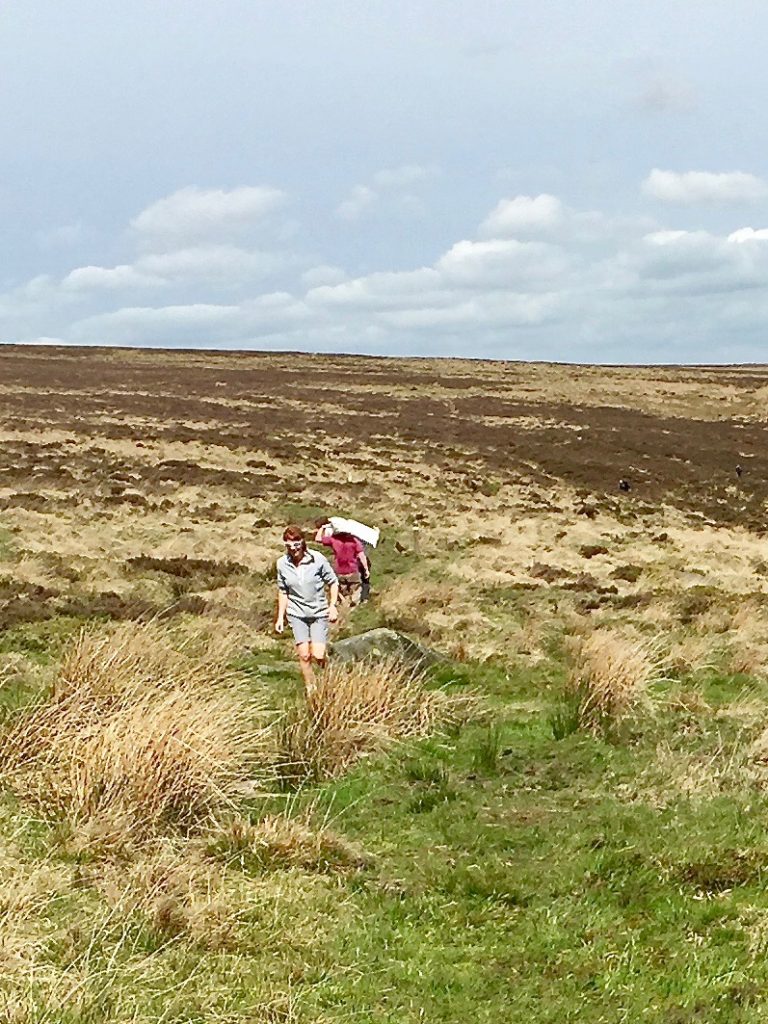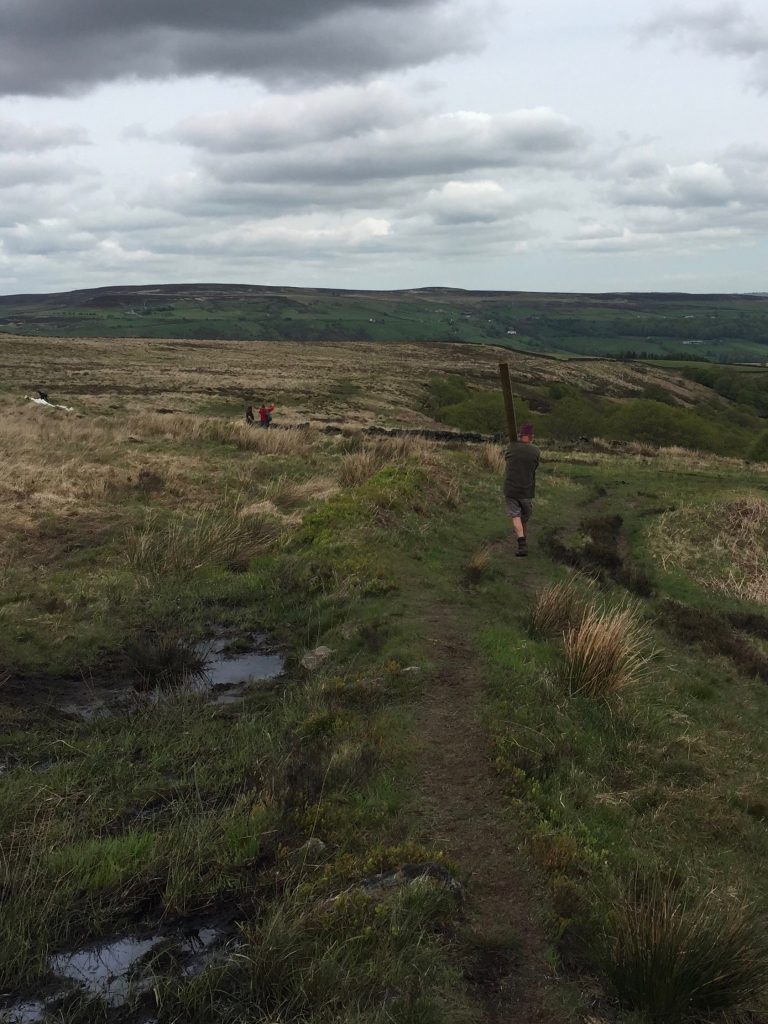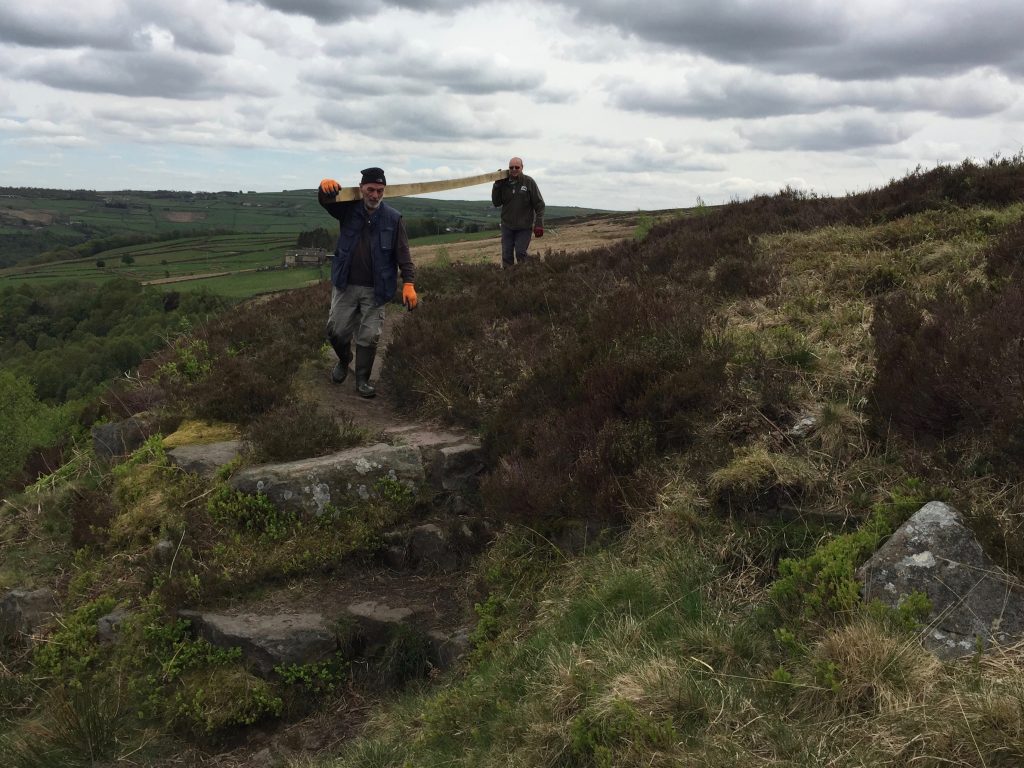 May 16th, 5 boardwalks in and the finger post installed