Sorry, this page has been neglected, we will try and update it soon.
October/November
We have published the results of our Haiku competition which is on the 
Webpage
August/September
to be updated
June/July
We have launched our project to refurbish all the information boards above Todmorden. The project includes people submitting a Haiku poem for each board.
More information
April May
to be updated
February/March
Hardcastle Crags continues with one path complete, one nearly finished and one well on the way. Working with NT volunteers has been great fun.
We have done other work in Cragg Vale, Todmorden, Cornholme and Horsehold Wood. Plans are now being finalised to deal with major problems on Bell House and Erringden moors where we will be installing a number of boardwalks. Because of the snow preventing us from working, all the timber has been prepared. We will be needing help transferring all the timber on
the big coiners carry
 in May.
December – January
The Riverside path in the Crags  and work for the Hebden event has been completed. Several stiles have been fixed in the Todmorden area. For Calderdale Highways we worked on clearing Trimmer Lane in Blackshaw and the Pennine Way in Colden. A couple of good sessions over in Ripponden, mainly fixing waymark posts and cutting back. We also recruited a really good new volunteer and finally cracked a Just Giving button on the website.
October – November
Highlights of this period has been the completion of boardwalks over the moors below Cold Edge Road, clearing the Pennine Way at Colden, more work on the Slurring Rock path in the Crags, several session in the Todmorden area and the completion of all the bridleway waymarking and trig point painting.
August – September
Lots of work in Brearley Woods, sorting trees down over paths, waymarking and path widening. Finally finished the steps at Clunter Clough at Walsden and sorted a very neglected path in Longley Woods in Norland. Started working on paths in Hardcastle Crags – we will be there a while!
June – July
The bridleway waymarking project continues which is also helping up identify other problems.
Thanks to some generous donations and help from Zinsser paints, we have half finished painting the 14 trig points in the area.
Here is a before and after photo of the trig point at Bridestones.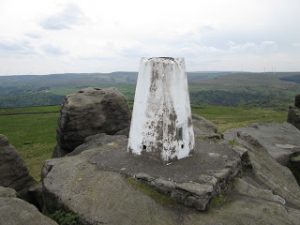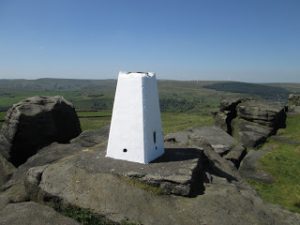 The other main completed project was the path from Lumb Falls to Midgehole – fixing lots of drainage problems and waymarking.
April – May
We seem to be fixing a lot of stiles during this period! It's clear there are plenty more to do.
We finished the Crags path just before Easter, when over 300 people used it.We made a start on painting all the trig points which we are hoping to complete by the end of the summer. The bridleway waymarking project is well under way and again we hope to finish it by the summer.
Whilst most of us have been enjoying working in the fine weather, we have had to put most of the drainage work on hold as it has dried out. However the great weather has resulted in more paths becoming overgrown, so its shears and loppers at the ready.
February – March
Some good paths cleared in Norland – almost impassable, a couple of paths damaged by mountain bikes, other sites in Walsden, Heptonstall and Luddenden. Hope to complete the new path up to the top of the crags (as in Hardcastle Crags) – great views (and a phone signal) from the top. Also recruited two new people to join the team.
December – January update
Work continues on the Calderdale Way and other publicised walks, thanks to funding from Calderdale Highways.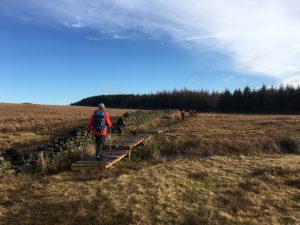 The highlight was finally opening up Dick's Lane which has been pretty impassable for several years. A causeway was built and 100 foot of boardwalk constructed. We are very grateful to everyone who turned up to carry all the wood up to the site.
Towards the end of January, we made a start on constructing a path to the top of the Crags in Hardcastle Crags.
Because we do a lot of work on upland drainage we have been seeking to address the implications of our work on flooding. The
Slow the flow
website is now live and we are attending their meetings.
October – November update
Calderdale Way work continues, but also going through the work on Walks around the Villages routes.
Dicks Lane by Stoodley Pike has long been pretty impassable, but we have made a start.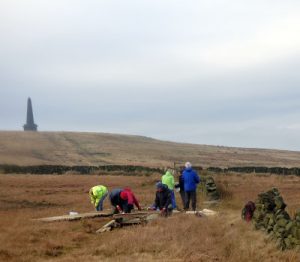 August – September update
Cracking on with the Calderdale Way with nearly half the sections and link paths finished. Work also done on several of the Walks from the Villages.
Finally completed the pitched path at Hippins, so no more wading through the mud on this popular path.
Three new volunteers started and we lost one to the lure of Canada.
May- July update
After lengthy negotiations with Calderdale Highways we are now working on priority paths
Calderdale Way
E-Trails
Village Walks
Walkers are welcome published routes
This gives us the opportunity to deal with some long standing problems.
We have also received a grant to deal with all the paths in Walsden
March/April 2016 update
Still doing lots of flood related repairs, major project for tod boundary walk at Greens Clough Portsmouth completed. Start made on a causeway at Hippins to deal with very muddy section of Calderdale Way Link path. Several trees down in jumble Hole dealt with, riverside fence erected at Callis, new permissive path started in Nutclough. Calderdale Way survey completed.
New funding obtained for work in Walsden and discussions underway with Calderdale Council Highways dept.
January/February 2016 update
We started by having to clear up after our depot at White Ribbon had 6ft of water running through it on Boxing day. We lost a lot of stuff, but after a week or so we were back up and running. The Calderdale Way Survey is well over half way finished, showing a lot of work needs doing on it.
In early February, to make it easier for people to tell us about problems, we launched a new Facebook page (see icon at the top of the page) and a phone line (07849 640784).
Hebden Royd Town Council gave us a £500 grant to deal with damaged paths in the area which we have already made a start.
We are well on our way to finish the work on the e-Trail around Cornholme, discovering some amazing paths in the area.
Todmorden Town Council gave us £300 to fix some steps and other issues in the Walsden area.
One long-standing volunteer retired before Xmas and two new volunteers started in January making 21 in total.
Previous years