December update
Just finished doing all the paths on the East valley side of Cragg Vale. Thanks to our funders Calderdale Long Distance Walkers association, Thomson Reuters and Cragg Vale Community Association.
Other major bits of work over the summer included clearing a causey path at Blackshawhead, repairing the riverside path in Hardcastle Crags, several jobs at Old Town, Todmorden and Mytholmroyd.
June update
The stairway to Old Town is now nearly finished, we are just waiting for the final few donations to come in.
Just starting some work on paths in Hardcastle Crags for the National Trust and some sections of the Hebden route used by Calderdale Long Distance Walkers Association.
May update
We have several promises of sponsorship for the stairway to Old town, so we will make a start next week.
Below is a piece in the Hebden Bridge Times about the project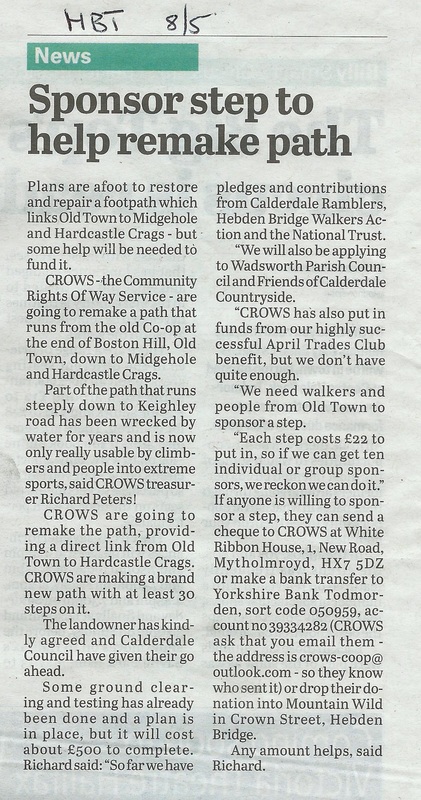 The 901 work is nearly complete. We are now completing the costing up of a number of new jobs including the Stairway to Old Town.
The Ramblers have given CROWS a very generous £100 donation which we may put some towards the Old town project.
A meeting between CROWS and Calderdale Council Rights of Way Dept is being set up to work out how we can work together.
April update
We are currently working on a number of routes for Hebden Bridge Walkers Action. They are launching a series of walks from the 901 bus (Hebden Bridge to Huddersfield).
We are also taking a bit of a break from work parties to conduct a number of surveys of routes to cost up the repairs that are needed.
Trades benefit
The CROWS benefit at the Trades club on Friday March 21st  raise over £600. Many thanks to the  Owterzeds, Grannys Attic, raffle prize donors and the Trades Club
Current work
Path renovation between Todmorden and Cornholme, partly along the Calderdale Way
Work planned for later in 2014 includes:
New path route behind the Hinchcliffe, Cragg Vale
Drainage work on path above Lumb falls
Path renovation for Hebden Bridge Walkers Action bus walks