We have produced a small downloadable brochure that describes CROWS, what it does and how it works. Download CROWS Booklet here.
Improving and maintaining footpaths and bridleways involves:
Cutting back vegetation that impede people using the route (this can be clearing undergrowth, lopping shrubs or pruning trees)
Improving drainage where the path has become muddy (by scraping off the mud, creating ditches and drains, or managing water courses)
Construction and repair of stiles and gates
Construction and repair of steps and boardwalks
Repair of stone walls
Construction and repair of bridges
Putting up waymarks
Dealing with Himalayan balsam
On a separate page you will find some before and after pictures of our work.
We also have a more detailed blog of photos and information about current activities
Our depot
We are based in the basement of the White  Ribbon offices in Mytholmroyd.
We are very proud of our depot organisation, it is the engine that powers our work.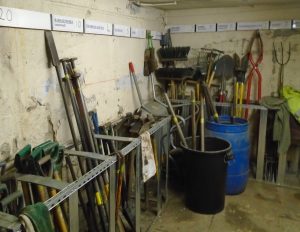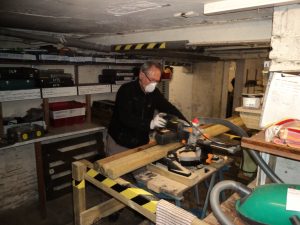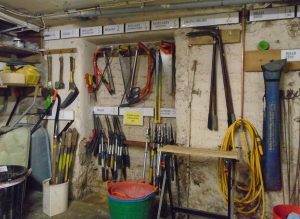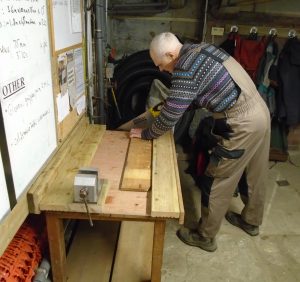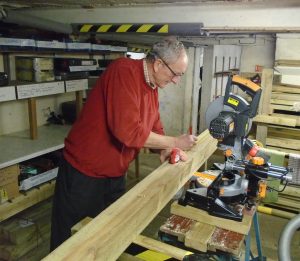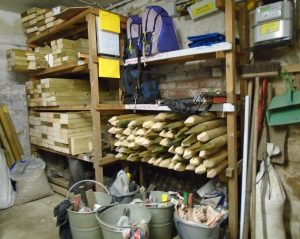 Legal framework for our work
There are some constraints to what we are allowed to do. The document below sets out the legalities of working on Rights of Way.
legal-framework-for-crows-work
For further information, check out the FAQs on the website for Rights of Way Officers
Lost paths
England and Wales have about 140,000 miles of footpaths, but it is estimated more than 10,000 have been lost from current maps. We encourage people to rediscover them and put in legal applications for their recovery  before the government deadline in 2026 after which claims will no longer be accepted.
If you know of a lost footpath, first find out if it is an existing Right of Way. Go to the council's mapping site. Select Rights of Way in the left hand index. You will then see all the Rights of Way appear and just have to expand the view.
If it is not a Right of Way but is clearly well used, you will need to put in an claim? To do this you can contact Calderdale Highways or perhaps your first port of call should be the Ramblers, whose website gives clear advice on how to identify a lost path and make an application. The method involves comparing new and old maps, plus examination of historical sources. Walking and exploration is involved, but don't forget that a lost path has to be proven before you can use it, otherwise you are trespassing.
Completed projects
Erringden Moor boardwalks
Gaddings Dam
Tod tops access boards
Community Rights of Way Service – a poem
Who opened up these moors CROWS
Who cut holes in the wire CROWS
Who rebuilt these dry stone walls CROWS
Who built these stiles CROWS
Who hung all these new gates CROWS
Who built these new bridges CROWS
Who dug all these ditches CROWS
What tool do they use CROWBARS
Who shows the direction to go CROWS
Who pays for all of this?  Not sure Who pays towards some of this? CROWS
There is a need to CROW about it
Graham Ramsden