Questions about our organisation
Questions about our work
What are all the different waymarks we see?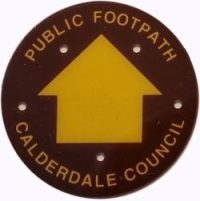 The two main waymarks we put up are yellow on brown for public footpaths and blue on white for bridleways.
There are special waymarks for designated long distance walks – Pennine Way, Calderdale Way, Burnley Way, Rochdale Way, Todmorden Centenary Way, etc.
There are also special waymarks for local walking routes published by groups – Walkers Action Making Tracks children's walks around Mytholmroyd, Mytholmroyd to Stoodley Pike and back, Pennine Way loop, E-Trails.
Why don't you replace stiles with gates?
Replacing a wooden stile with a gate may be possible. However, to do this we need the landowner's permission. They are often reluctant to give this because of the danger of the gate being left open and livestock escaping.
Many of the old walls in our area incorporate gap stiles, squeeze stiles or stone-step stiles. Fitting gates into these often presents serious (and potentially expensive) technical difficulties.
Why don't you install dog gates?
We can only add a new dog gate to a stile if it is authorised by Calderdale Council Highways, or we have the landowner's permission. When we are rebuilding a stile, we always attempt to find the landowner and ask about dog gates, but many are reluctant to give permission. In 2021 we increased the width of replacement tread-boards which make it easier for most dogs to negotiate the stile.
How do you balance improving drainage on a path with 'Slowing the flow'?
Our aim is to make a path usable by directing excess water from the surface of the path to one side of the path. This means that a 'slow the flow' bog is created just off the path.
Where a bog area is ecologically important we can install a boardwalk (anchored by posts), so walkers are kept on a dedicated route and do not damage sensitive flora.
How do you balance cutting back overgrown vegetation on a path with protecting nature?
Footpaths give people an opportunity to enjoy the countryside, but for this to succeed the path must be usable and safe. Before starting a cutting-back job we walk out the path looking for nests or rare plants which may need special consideration.
We then cut back any vegetation that obstructs a path, but strive to preserve plants growing near the edges of the path. It is often a fine balance between access to a right-of-way and consideration of nature.
Why not use recycled plastic instead of timber – for longer life?
We currently use timber that has been 'e-tanalised' – a process that offers preservation with low environmental impact. However, we are considering using re-cycled plastic, which would make our stiles, footbridges, etc. last much longer. In particular, we are exploring products from a local company – British Recycled Plastic – and also drawing on the experience of other agencies so we can best identify the jobs that may particularly benefit from using plastic instead of wood.
However,
many of our jobs are repairs to existing structures so we will have to continue using timber for those and limit any use of plastic to straightforward jobs needing a complete rebuild.
many of our jobs (e.g. stiles) have to be customised and have configurations that are not compatible with that of the standardised kits that are available.
the cost of a recycled plastic stile far exceeds the cost of our 'in-house' timber stiles.
we need to consider the carbon footprint of producing recycled plastic items compared with those made of timber; the waste created during construction work and the 'end-of-life' disposal of non-biodegradable re-cycled plastic.
How do you know if a path is a right of way?
To find out if a path is an existing Right of Way you can go to the council's mapping site. Scroll down the "Legend" at the left and tick the box beside "Rights of Way". You will then see all the Rights of Way appear as dashed lines in purple for paths and in green for bridleways. At first the view is zoomed out to the whole of Calderdale, but you can click the "+" button at the top left of the map repeatedly to zoom in to a very detailed map. Click and drag the map to see the area you are interested in. Click on a footpath and a popup window will show the official footpath number. This is the definitive map of Rights of Way – the Ordnance Survey maps also show Rights of Way, but they may be out of date and therefore slightly different.
What can CROWS do to improve safety, where walkers and mountain bikers share the same paths?
As part of a project with Blackshaw Parish Council, we identified four useful interventions.
Cut back bushes on bends, so walkers and bikers can see each other coming.
Widen narrow paths, so walkers and bikers can pass safely.
Provide a bypass for bikers, where tyres are damaging wooden steps.
Widen steep paths, where tyres have dug narrow grooves and made walking difficult.
Questions about our organisation
Where do you work?
We are a group of volunteers who work out of our depot in Mytholmroyd. Rain or shine we work hard to do repair tasks on the 750 miles (1200 km) of footpaths and bridleways in the Upper Calder and Ripponden Valleys.
Our aim is to make these Rights-of-Way accessible and safe for all users – walkers and runners (footpaths and bridleways); mountain bikers and horse riders (bridleways only).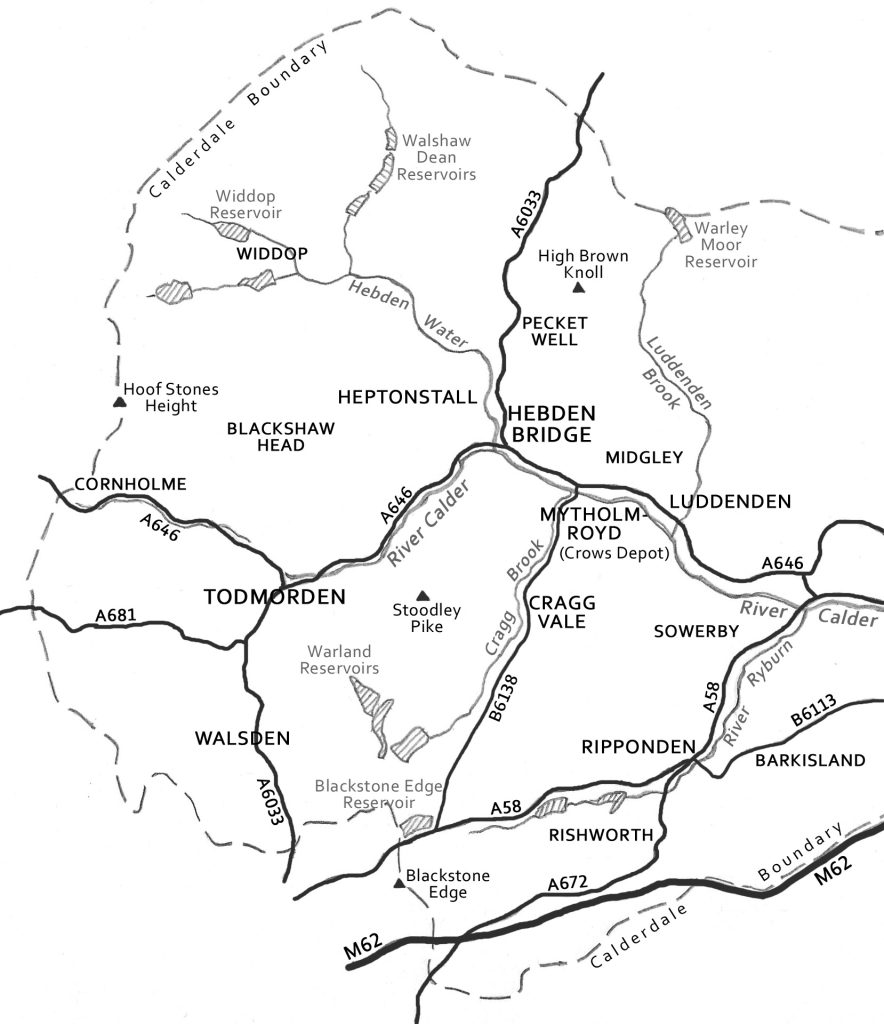 Are you a charity?
We are a registered charity, Registered in England as Charity Number 1201645. We are also registered with HMRC for Gift Aid.
Do you have paid staff?
No, we are all volunteers.
Where does your funding come from?
We rely on individual donations to keep us going. We use the website JustGiving to receive donations from the public (and collect Gift Aid where appropriate) at no cost to the donor. We also get some funding from local Councils, trusts, and user groups, as shown here.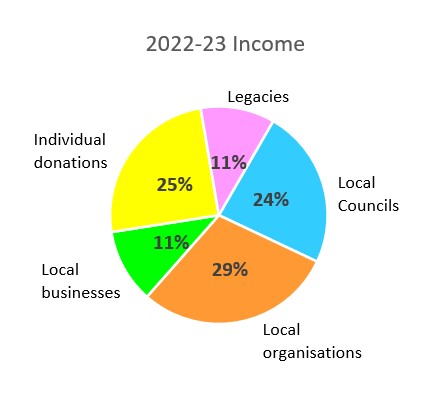 What are you allowed to do?
CROWS don't have the right to do anything, anywhere except:
where the landowner has given us permission, or
where Calderdale Council Highways have asked us to do something.
We do routine maintenance work with the support of the Local authority. We also offer a service to landowners by doing work for which they may be responsible.
Do you need the landowner's permission to do work?
We do try to get permission from landowners but on occasions where the job is routine maintenance (e.g. replacing or repairing) we usually assume previous permission still applies. This is rarely a problem. Often it is difficult to identify who the landowner is, or it turns out that they are 'absentee owners'.
However, we particularly try to contact the landowner for the following situations:
Working close to someone's house.
Where we need to park on someone's property.
Where we are constructing something new, e.g. stiles, steps etc.
Where a series of small jobs in one place creates a significant impact.
Where the work may impact on livestock.
When significant amounts of water are being diverted on to adjacent land, where there is no existing drain.
Where the work is on land owned by Calderdale Council.
For more information on the legal basis of our work see this document.
Why are there so many paths in our area?
Calderdale has a network of around 2000 footpaths and bridleways totalling over 1,125 miles. In the area we cover (the Upper Calder and Ripponden Valleys), there are over 750 miles. Why are there so many?
The network of paths reflects the changing needs of the community and businesses over the last 500 years – some examples:
In the 17th century there were several long distance routes linking Lancashire and Yorkshire (Long Causeway is the most well known). Many of these were paved with causey stones. There were also routes between churches, known as coffin roads.
In the 18th century the hand loom trade flourished and, to allow the delivery of raw materials and the collection of finished goods, a network of routes between farms was established.
In the 19th century, the textile industry moved from the upland farms into the water-powered mills in the valleys. The wonderful flights of stone steps scattered through the area were built to get the workers up and down to the mills. All this building work demanded significant quarrying of local stone and the construction of many quarry tracks.
In the early 20th century, many of the paths were no longer useful or maintained. However, the increasing interest by city dwellers in visiting the countryside gave birth to recreational walking and the passing of the 1934 Rights-of-Way Act.