CROWS volunteers improve and repair footpaths in the Upper Calder and Ripponden areas. To see what we have been doing in your area look at the latest news on our Blog. It will open in a new tab and show you a report and photos of every job we do. You can also see highlights of our work if you follow us on Facebook (facebook.com/CROWSpaths).
ERRINGDEN MOOR BIG CARRY – more information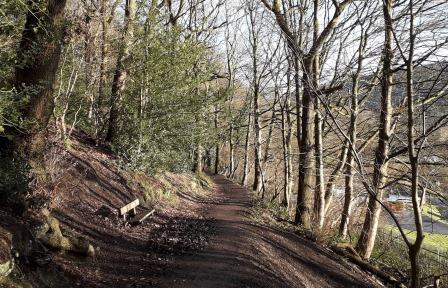 Without maintenance a footpath can become boggy in winter and overgrown in summer. From there it's a short step to being impassable and then forgotten. But, with a visit from CROWS every year or two, our footpaths can be a delight to walk along and a community resource for everyone.
If you want to know more about us, have a look at this short video of an interview with one of our members in 2020.
The video is from "My Calderdale" published by Pathway Film Productions.
Please donate to CROWS
We are a charity with hard-working dedicated volunteers. We need your support to continue our work of maintaining and improving our footpaths so they remain accessible to everyone.
We are registered as a charity with HMRC (our ref is EW21852) we can receive Gift Aid on your donation through just Giving, but there are lots of other ways to make a donation, both one-off or regular. Whichever you choose, any amount helps. Many thanks.
Please tell us about a problem with a path
Please tell us about problems you encounter whilst out walking in the Upper Calder and Ryburne Valley area. There are several ways to do this, but the easiest is to use the report form on this site – it's very quick and simple to use.
What we've achieved
CROWS volunteers work in teams of two or three, and since we started in October 2013 our teams have spent…
83 days building bridges and boardwalks
200 days repairing stiles
221 days building steps
262 days widening and levelling paths
320 days digging drains
337 days cutting back brambles and nettles, hawthorn and holly
The volume of mud and mulch removed from paths is incalculable!