We rely on our friends and supporters to fund our work (you can see where our funds come from further down the page).
Making a donation
The simplest way to donate to CROWS is to use Just Giving – either a one off or a regular donation, we get Gift Aid from both.
Make a one-off donation…
Any amount helps, we use these donations to do small, but essential jobs.  You can change the figure in the box to any amount.
Become a Friend
It would help us plan if each of our supporters pledged a small amount each year. This can be done through JustGiving. You decide how much, but make sure you tell us that you have done it!
The money raised in this way allows us to respond to the reports that people send us in a timely way.


Other ways you can donate
You can send a

cheque

to us at Unit 3, Mount Shed, Banksfield Road Mytholmroyd, HX7 5NW or
You can to do a

bank transfer

, our bank details are Yorkshire Bank, sort code 05-09-59, account no 39334282 or
Just

drop us an email

and we will contact you and talk about how you might help
Where our funding comes from

Before we do any work – it costs £2000 a year for us to operate – premises, insurance, safety, tools and materials. We have no general funding for our fixed costs. In 2019-20 our funding was:
8% direct donations
10% donations for specific projects
14% funding for infrastructure/materials etc
68% payments for agreed projects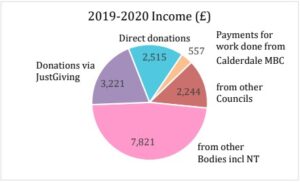 We need visitors and walkers who live in the Upper Calder and Ryburn Valleys to help fund path upgrades and improvements.  If you have had a good day out walking, consider donating a small amount to us, you can even let us know which path or which area you want us to work on.
Can I donate in Kind?
If you have any tools, equipment or materials that you think we may be able to use, please send us an email with the details, we are happy to collect (and thanks to the person who left a leaf rake and fork outside our depot). If you are aware of any sources of funding we might be eligible for, please drop us a line.
Going on a Ramblers Holiday?
CROWS has joined Ramblers The Walking Partnership. This new partnership, supported by Ramblers Worldwide Holidays, provides direct financial contributions to local walking groups to help to clear and improve footpaths.
Ramblers Worldwide Holidays operate group walking holidays in the UK and all around the world. Each holiday is accompanied by a qualified walks leader and are graded in terms of difficulty. Take a look at their website on www.ramblersholidays.co.uk or give them a call on 01707 331133 for more details or to order a brochure.
When you book to quote the name of our group, and we will then receive a contribution of £10 per person on UK holidays, £20 per person on short haul holidays, and £30 per person on long haul holidays. This extra funding could really make a difference to us!
For more details, visit The Walking Partnership website at www.thewalkingpartnership.org.uk.