CROWS volunteers improve and repair paths in the Upper Calder and Ripponden areas. To see what we have been doing recently in your area look at our Blog .
AFTER THE LOCKDOWN

We started work again in July after a detailed risk assessment based on the government COVID19 guidelines. There are some jobs that we still can't do, but we'll review this as we go along. You can see a short version of our risk assessment.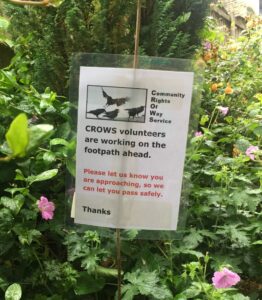 Watch out there are CROWS about!
PLEASE CONTINUE TO Help with our funds

People have been incredibly generous in supporting our work. We are a charity registered with HMRC, we have no regular funding. We rely on individual donations to deal with reports of path problems. Using JustGiving is simple (and we get Gift Aid). You can do a one-off donation or become a regular friend.
Can you become a Friend and make a regular donation?
We ne

ed a base of supporters to help us to continue our work. Giving a regular (annually or monthly) donation will secure our long term existence. Any amount, however small is really helpful.
Can you can make a one off donation?
If you have been out on a path that we have repaired please make a one-off donation.  Remember any amount helps and JustGiving is dead simple to use.
For other ways of donating or helping us, have a look at the page Help us with our work.
Tell us about a problem with a path:
We really need our supporters to tell us about problems they encounter whilst out walking in the Upper Calder and Ryburne Valley area. You can do this by:
Since CROWS started in October 2013…….
The length of existing routes repaired so far is 846 km
The length of new routes created so far is 5.2 km
The number of way-marks put up so far is 2056
The number of steps installed or repaired is 1098
The number of bridges and boardwalks installed or repaired is 40
The volume of mud and mulch removed from paths is incalculable!